Kennet
Kennet, also known as "Beanpole", is the youngest member of the Crinfrid Reavers, a group of mercenaries hired by king Niedamir to take part in the hunt for a dragon outside Barefield in "The Bounds of Reason", a short story in the Sword of Destiny collection by Andrzej Sapkowski. He is known for his expertise with a two-handed sword. Other members of the group include:
The Crinfrid Reavers appear in the episode "Smok" of the series, where the role of Kennet is portrayed by Piotr Dąbrowski.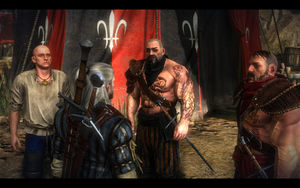 In The Witcher 2, it seems that Kennet has become the estwhile leader of the Reavers and it is he who notices and addresses Geralt outside Foltest's army camp.